What sets our services apart is that we offer a highly flexible pricing structure based on an hourly rate. This means you will only pay for the exact amount of time you require our services, allowing you to create a customized budget for each event. In essence, we are the only photography company that provides transparency and clarity in our pricing from the very beginning.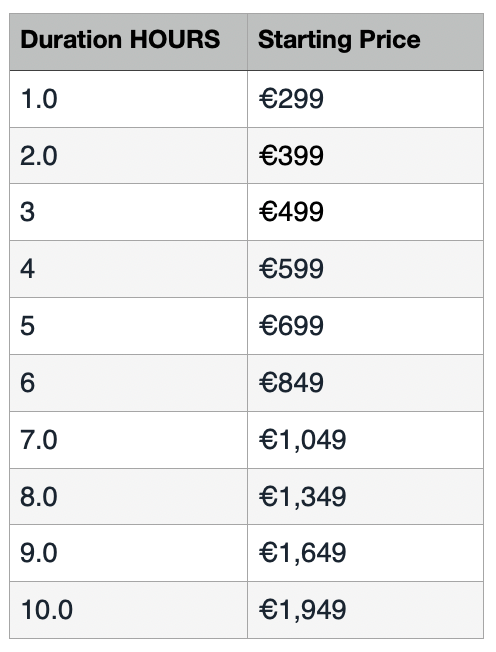 Rates are in local currency. Prices are current as of January 2023 and are subject to change.
"At ZEUSS PHOTO we pride ourselves on offering our expertise to help you accurately determine the required time to fulfill your unique needs. However, we also understand the importance of your autonomy in choosing the level of investment that aligns perfectly with your preferences. Your satisfaction and comfort are our top priorities, and we're here to support you every step of the way."

Payment in full is required prior to the commencement of the photo shoot.
Cancellations are subject to a 25% commission fee.
Cancellations made within 48 hours of the scheduled shoot are non-refundable.
Transportation fees may apply. Please inquire about these fees before booking a session.
Photo Editing (Photoshop):
Photoshop services are not included in the base price and will be quoted separately. Prices for Photoshop services start at $15 per image, varying depending on the volume of work required.
After every 6-hour period of photography, a 1-hour break is required for the photographer.
Your session begins promptly at the scheduled time. We highly encourage punctuality and recommend arriving well-prepared for your shoot.
Additional hours beyond the initially agreed-upon time will be billed accordingly and should be requested before the current session expires.
A Short-Notice Fee of 50 Euros applies if the booking is made with less than 24 hours' notice.
Prices listed do not include applicable taxes. In certain countries, photography services are considered an integral part of the "fabrication process." This means that the labor involved in providing photography services is closely linked to the final product, making it taxable. Without the photography service, the final products, such as images, wouldn't exist. Please note that taxes, if applicable, will be added to your invoice in accordance with local regulations.